Resources
We discuss many resources in the Building Evolutionary Architectures workshops, and we continue to find more tools that fall into our categorization of fitness functions.
---
Presentations by the Authors
---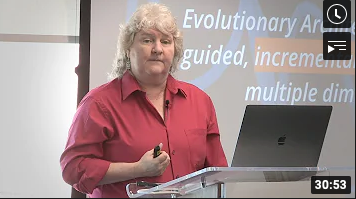 ---
---
Presentations NOT by the Authors
Allowing for change is especially important when designing your frontend applications, where ever higher user expectations meet the fast-paced JavaScript ecosystem.
In this talk, we will show how the principles of evolutionary architecture can be applied to UI to prioritize changeability. We'll consider several approaches to making a modern UI application more evolvable, such as the microfrontends pattern, and examine specific "fitness functions" that will keep you and your team honest to your requirements without sacrificing evolvability. We'll also discuss the tradeoffs you make when you choose a more evolutionary frontend architecture, and provide a framework for thinking about how much future change you'll need to account for.
Software
Supported Languages:
Apex
Ecmascript
Java
Java Server Pages
Maven POM
PLSQL
Salesforce VisualForce
VM
XML
XSL